What It's All About?
Toptracer® Range technology offers all kinds of data and games to engage your imagination, your swing, your friends and even new opponents around the world. Toptracer® has fun games for adults and kids of all ages. The whole family will enjoy hanging out in our beautiful hitting bays and being together in our super-fun, healthy environment.
**Each bay can accommodate a maximum of 6 people with no exceptions (this includes all players and spectators)**
Large group reservations and events (more than 12 persons or 3 bays) can be booked by calling (859) 647-5417 or emailing madelyn.neidhardt@florence-ky.gov
Pricing
| | |
| --- | --- |
| Small Basket (50 balls) | $10.00 |
| Large Basket (80 balls) | $15.00 |
| Jumbo Basket (125 balls) | $18.00 |
Toptracer is included with basket pricing
TOPTRACER® GAMES!
Toptracer® Range technology offers all kinds of data and all kinds of games to engage your imagination, your swing, your friends and even new opponents around the world. From Longest Drive to virtually playing some of the world's most famous golf courses. You'll love it!

WARM UP
For the statistician or avid golfer
This comprehensive training mode allows guests to hone their skills by offering data such as distance (carry and total), ball speed, launch angle, height, side deviation, landing angle, hang time and distance to target.

MY PRACTICE
Beginners, players looking to improve and those looking to learn more.
This mode encourages Guests to dig deeper into their golf bag and learn the details of each type of club. It also allows them to store those stats over time on the Toptracer Range Network.
VIRTUAL GOLF
For golfers & competitors, kids & families, and anyone who likes to travel.
This mode gives Guests the opportunity to play some of the world's greatest golf courses right from your bays. Individuals and groups can play a full 18 holes without ever have to leave the range.
CLOSEST TO THE PIN
Millennial social seekers, families, competitors and the golf purist.
There's nothing like a little friendly competition to get some excitement going in the bay. This game allows friends to compete while working on their swing.
LONGEST DRIVE
All around golfers and competitors, millennial social seekers, kids and families.
Who can hit the farthest? This game lets Guests settle the argument once and for all by turning the range in a proper long drive grid for up to eight players.
POINTS GAME
Millennial social seekers, kids and families.
This game lets friends compete for points based on distance from the target and is great for people that like a friendly challenge. Guests can even add In Air bonus rings for and extra challenge.
GO FISH
Get ready for a thrilling
golfing adventure
with 'Go Fish!'
Earn stars by catching rare fish from the depths of the ocean. Collect the different species in your aquarium, and if
you are skilled enough you
might even get a trophy catch!
Toptracer® Mobile App
Before you visit World of Golf please take a quick moment to download the Toptracer® Range app on your smart phone. It's fast, easy and free – and it allows you to keep track of and store all the amazing Toptracer® data available for every shot you take.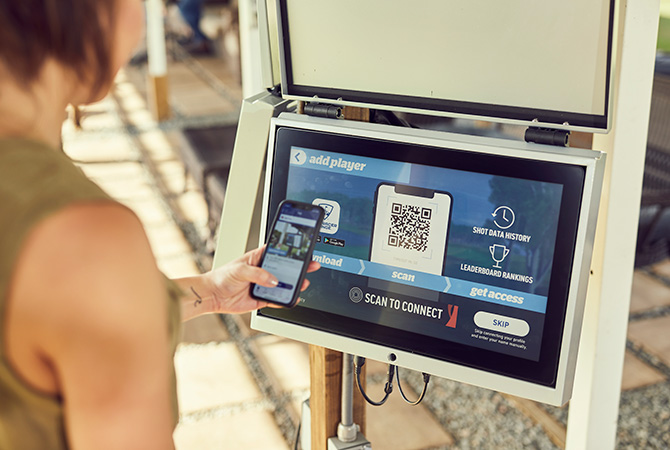 Dress must be "socially acceptable" for all

Acceptable items: appropriately fitting t-shirts or tank tops, polos/golf blouses, collared shirts, appropriate length shorts, jeans, golf pants, or skirts
Unacceptable items: shirtless, low cut tops, see through shirts, etc.